Budget 2021 missed online education and how NewsFunda
The recently announced Budget 2021 has allocated Rs 93,224.31 crore to the educaction sector, which is Rs 6,086.89 crore less than the previous year. Despite being one of the fastest-growing sectors, online education did not receive the government's attention in terms of money. Bijaya Kumar Sahoo, advisor and working president, Odisha Adarsha Vidyalaya Sangathan, says …
The recently announced Budget 2021 has allocated Rs 93,224.31 crore to the educaction sector, which is Rs 6,086.89 crore less than the previous year. Despite being one of the fastest-growing sectors, online education did not receive the government's attention in terms of money.
Bijaya Kumar Sahoo, advisor and working president, Odisha Adarsha Vidyalaya Sangathan, says that India has no choice but to start preparing for a permanent blended-learning ecosystem.
"Coronavirus outbreak has given rise to the online mode of learning. While NEP 2020 focusses on bridging the digital divide, the budget did not allocate any funds for either NEP implementation or education technology (EdTech) due to fiscal deficit. However, every country, including India, needs to be prepared in a way that learning never gets hampered as blended learning is the future," Sahoo tells
Education Times.
Most premier technical institutes have the digital infrastructure for online learning, but several other universities and schools struggled throughout 2020.
Arvind Choubey, director, IIIT Bhagalpur, says, "Allocating separate funds for boosting online education may not have been the government's priority because of the anticipation that the situation will soon get back to normal. But even then, we must focus on improving digital infrastructure, setting up smart classes in all HEIs and not only premier technical institutes."
India's EdTech market is expected to be valued at $3.5 billion by 2022. However, costly courses are not allowing the industry to tap the untapped market of learners in rural areas. EdTech startups were expecting tax exemption on online courses, but budget 2021 did not focus much on the growing edtech industry.
"It would have been encouraging if the government had introduced a reduction on 18% GST for online education services. Individuals should also be allowed to have tax rebate on expenses incurred on online learning programmes," says Krishna Kumar, founder and CEO, Simplilearn.
Every institute charges students a nominal fee for internet or maintenance of the digital infrastructure. But, students have been studying online from home for over a year now with no reimbursement of the costs and it can take up to 1 gigabyte (GB) of data for one class.
Amiya Kumar Sahu, associate professor (Finance), Goa Institute of Management, believes that online education was sidelined as the health sector took the front seat amid Covid-19.
"We as a country are spending more on road infrastructure than education. State governments can provide internet connections to schools and institutes. But, it does not solve primary infrastructural problems where students do not have smartphones or laptops. We need sustained financial efforts over the years for blended learning to flourish, which was largely missing from budget 2021," Sahu adds.
News is auto-aggregated by a computer program and has not been created or edited by Newsfunda
News is auto-aggregated by a computer program and has not been created or edited by Newsfunda
Source: https://newsfunda.in/2021/02/08/budget-2021-missed-online-education-and-how-newsfunda/75155/
5G on the Higher Ed Horizon
Higher education facilities such as the 5G Innovation Hub at the University of Illinois Urbana-Champaign will be critical in advancing the emerging connectivity standard.
Uros Marjanovic, Lead Network Engineer at the University of Illinois Urbana-Champaign, is pictured with Laura Frerichs, Executive Director of the school's Research Park.
May 03 2021
Higher education facilities such as the 5G Innovation Hub at the University of Illinois Urbana-Champaign will be critical in advancing the emerging connectivity standard.

Calvin Hennick is a freelance journalist who specializes in business and technology writing. He is a contributor to the CDW family of technology magazines.
More than a decade after the first appearance of 4G LTE, its effect on users' lives can be difficult to recall. Before 2009, however, it was almost unheard of for people to use their mobile phones to upload photos, watch videos, follow GPS directions or download audiobooks — activities that people take for granted today.
Now, with carriers rolling out 5G networks, the world is poised for another tectonic shift in connectivity. But first, industry and academia must invent and validate transformative applications that take advantage of the new standard. This innovation will take place in facilities such as the 5G Innovation Hub at the University of Illinois Urbana-Champaign, opened last fall in the university's Research Park.
Uros Marjanovic, lead network engineer at the university, helped stand up the Innovation Hub. He notes that 5G is "constantly changing and evolving" and says that efforts like the Innovation Hub will be instrumental in helping to develop realistic, high-value use cases for the technology. "We've talked about 5G a lot, but it's really a technology that is still in its infancy," Marjanovic says. "We have these amazing minds on campus, and if we just give them some tools, then they will do things with 5G that people could never fathom."
Infancy or not, 5G is quickly moving toward the mainstream. 5G cellular networks are expanding across the U.S., and IT manufacturers are increasingly adding 5G-inclusive solutions and services to their portfolios: Cisco and its 5G-compatible network architecture offerings, for example, and Palo Alto Networks, which recently released a 5G-native security solution.
The result of a partnership with Verizon, the Innovation Hub is bringing together small startups, large companies and university researchers and students to collaborate on new use cases for 5G, says Laura Frerichs, executive director of the Research Park. "My hope is that both our companies and our researchers are able to invent ahead of others what's possible with 5G," she says. "Rather than talk about the technology in terms of hypotheticals, they will be able to try it out and learn from each other."
MORE ON EDTECH: Learn how 5G will advance educational technology on campus.
Building a 5G Sandbox for Higher Ed
The university's Research Park is home to offices for John Deere, Capital One, Procter & Gamble and more. Verizon has been a tenant for years, so when the company was looking to set up innovation centers at universities, Champaign was an obvious fit. "We were thrilled to be the first incubator," Frerichs says. "We're at the early stages of this technology, which is why it's important to have this test bed available."
The hub, Frerichs says, should provide researchers with the robust 5G bandwidth needed for proof-of-concept projects. Its 5G ultra-wideband connectivity is more resilient and robust than the 5G midband and low band typically available to consumers.
"It's a closed lab, basically a sandbox," notes Marjanovic. "It's not designed to serve thousands of folks, but rather just a few devices at a time. It's intended for testing development of new technologies, whether that's a new radio or using an existing radio for a new application to see how it performs."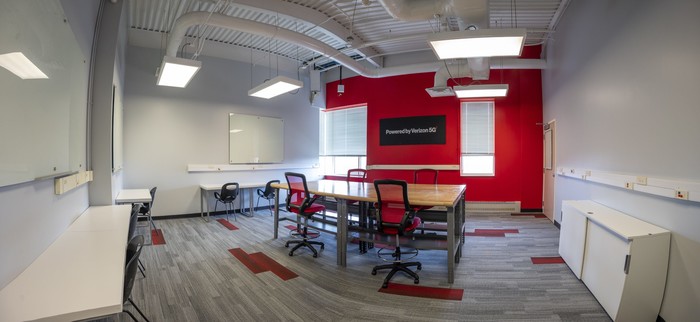 The innovation hub. Photography Credit: Photography by University of Illinois Research Park
Other universities are also capitalizing on the potential of 5G. Students at the University of Missouri, for instance, recently received full 5G capabilities on campus, along with a new 5G research and teaching space, as part of a collaboration with AT&T.
Leo Gergs, a 5G markets research ­analyst at ABI Research, says higher ­education will be an important sector both as an innovator and as a consumer of 5G applications. "The immediate use case for 5G in higher education centers on the provision of connectivity for remote education purposes, to provide an alternative to Wi-Fi," Gergs says. "In the long term, 5G capabilities can be used to further enhance higher education, using additional technologies such as augmented and virtual reality. For example, virtual reality can be used to allow medical students to train and perform different tasks in a virtual environment."
While 4G has a wide array of consumer-focused applications, 5G is likely to prove most valuable in business and research contexts, says Jason Leigh, research manager for mobility and 5G at IDC. "It's going to be faster than 4G LTE in most areas," he says. "Where you hear the most excitement is when 5G is paired with other technologies, like AR or robotics or drone control. I always hear about the scenario of a surgeon in New York doing robotic surgery in San Diego. Will 5G get to the point where it powers those futuristic use cases? Yes. It's just not there today."
Developing Transformational Use Cases in Higher Ed
Frerichs says the Innovation Hub will focus on four types of use cases: industrial applications, startup technologies, classroom functions and support for groundbreaking research. For instance, 5G could support AR and VR applications to enhance classroom instruction. "The big problem is that you need really robust bandwidth to offer that," she says. "5G is one way you're able to make that technology viable."
Another space where 5G could be transformative is agriculture. University researchers are working to advance robotics in farming for tasks such as precision application of fertilizer, soil sampling and detection of invasive species. However, Frerichs notes, these applications are limited by a lack of wireless connectivity in rural areas. "You need communication," Frerichs says. "5G is seen as a way to leapfrog and make Internet of Things devices more feasible instead of waiting for fiber connections."
DIVE DEEPER: 5G is the future of the Internet of Things.
"5G promises to provide really high bandwidth and low latency," says Girish Chowdhary, a University of Illinois associate professor of computer science and agricultural and biological engineering. "With 5G, we can offload the compute tasks to an edge device or to the cloud. That makes the individual robots much less expensive. The agriculture industry is very sensitive to cost, so this will drive technologies that are more adoptable."
The Innovation Hub, Chowdhary says, gives researchers a change to validate technologies in a lab before testing them in the field. "If we were to put together a 5G testing environment ourselves, it would be ad hoc," he says. "The Innovation Hub puts us years ahead."
Photography Credit: Photography by Matthew Gilson (portrait), University of Illinois Research Park (hub images)

Source: https://edtechmagazine.com/higher/article/2021/05/5g-higher-ed-horizon
Global edtech upGrad in major funding announcement
Global edtech upGrad in major funding announcement
Funding to provide boost to UK's international student population
LONDON, April 29, 2021 /PRNewswire/ — South Asia's largest online higher education company, upGrad, today announced that it has raised USD 120 million from Temasek, a global investment company headquartered in Singapore.
upGrad plans to use a portion of the fresh capital to support UK institutions whose international student population has suffered as a result of the pandemic. The edtech platform plans to help more universities accessible to the world by taking services online.
The cost-effective proposition offers university partners with a new revenue stream at no extra cost, with only limited faculty time required in the first year.
upGrad Co-Founders Ronnie Screwvala, Mayank Kumar and Phalgun Kompalli said in a joint statement, "We welcome Temasek in our mission to power career success for each and every member of the global workforce as their trusted LifeLongLearning partner and drive meaningful career outcomes. This capital will further fuel our commitment towards the UK market, which will houses upGrad's first international headquarters in London."
Elsewhere, upGrad will be using the funding to strengthen its team scale its global market operations, bolster its technology and product capabilities, pursue M&A opportunities, expend graduate and post-graduate degree portfolio in India, and scale up operations to achieve its USD 2 billion revenue goal by 2026.
This is the first external funding raised by the online edtech platform. Since its founding six years ago, upGrad has been 100% owned, funded, and run by its co-founders as a capital-efficient business.
Credit Suisse acted as the exclusive financial advisor to upGrad, and Rajaram Legal acted as legal advisor.
About upGrad
upGrad is South Asia's largest online higher edtech company offering 100+ courses in collaboration with top-notch global universities like Duke Corporate Education (US), Michigan State University (US), Liverpool John Moores University (UK), Deakin Business School (Australia), Swiss School of Business Management, (Geneva), IIT Madras (India), IIM Kozhikode (India), and others. Founded in 2015, the international edtech leader has impacted over 1 million total registered learners over 50+ countries across the world.
upGrad has ranked No.1 in the LinkedIn Top Startups India 2020 list. This is the third time in a row that upGrad has been featured in the LinkedIn Top Startup list after 2018 and 2019. It is also amongst GSV Global EdTech 50 and has ranked amongst the Top 50 in the FT Asia-Pacific High-Growth Companies 2021.
To know more, visit: www.upgrad.com
About Temasek
Temasek is an investment company with a net portfolio value of S$306 billion (US$214 billion) as of 31 March 2020. Its three roles as an Investor, Institution and Steward, as defined in the Temasek Charter, shape Temasek's ethos to do well, do right and do good. Temasek actively seeks sustainable solutions to address present and future challenges, through investment and other opportunities that help to bring about a better, smarter and more sustainable world.
For more information on Temasek, please visit www.temasek.com.sg
[ Back To TMCnet.com's Homepage ]
Source: https://www.tmcnet.com/usubmit/-global-edtech-upgrad-major-funding-announcement-/2021/04/29/9357937.htm
STEMscopes NGSS 3D Wins Cool Tool Award for STEM in 2021 EdTech Awards
Four products from STEMscopes suite also chosen as finalists for nine Cool Tool Awards HOUSTON–(BUSINESS WIRE)–#NGSS–The 2021 EdTech Awards has selected STEMscopes NGSS 3D from Accelerate Learning as the winner of the Cool Tool Award from a pool of 20 finalists in the STEM (science, tech, engineering, math) solution category. In addition, four STEMscopes products […]
Four products from STEMscopes suite also chosen as finalists for nine Cool Tool Awards
HOUSTON–(BUSINESS WIRE)–#NGSS–The 2021 EdTech Awards has selected STEMscopes NGSS 3D from Accelerate Learning as the winner of the Cool Tool Award from a pool of 20 finalists in the STEM (science, tech, engineering, math) solution category. In addition, four STEMscopes products have been named finalists for nine Cool Tool Awards in seven different categories.
The EdTech Awards program is the largest recognition program in all of education technology. This year's finalists and winners were narrowed from the larger field and judged based on various criteria, including pedagogical workability, efficacy and results, support, clarity, value and potential.
The STEMscopes Cool Tool Award finalists are:
STEMscopes Coding in the coding, computer science, engineering solution category and the new product or service category
STEMscopes Math in the curriculum and instruction solution, e-learning, blended, or flipped solution, math solution, new product or service, and testing & assessment solution categories
STEMscopes NGSS 3D in the e-learning, blended, or flipped solution category
"Our mission is STEM education, and we are honored that our STEMscopes solutions have been recognized with Cool Tool Awards across so many categories," said Dr. Reid Whitaker, founder and chief academic officer of Accelerate Learning. "We are proud to partner with preK-12 educators across the country and around the world to engage students in STEM and deepen their learning, increase scores, close the achievement gap, and inspire tomorrow's STEM leaders."
Celebrating its 11th year, the U.S.-based EdTech Awards program recognizes outstanding contributions in transforming education through technology to enrich the lives of learners everywhere. Featuring edtech's best and brightest, the annual program shines a spotlight on cool tools, inspiring leaders, and innovative trendsetters across the K-12, higher education, and skills and workforce sectors.
About STEMscopes
STEMscopes is a comprehensive suite of results-oriented STEM curriculum and professional development solutions used by 6 million students and 600,000 teachers across all 50 states. Created by educators for educators, STEMscopes is highly adaptable, affordable, and supports instruction in any kind of learning environment. STEMscopes was developed by Accelerate Learning Inc. in partnership with Rice University. For information, visit stemscopes.com or call 800-531-0864.
Contacts
Source: https://mytechdecisions.com/latest-news/stemscopes-ngss-3d-wins-cool-tool-award-for-stem-in-2021-edtech-awards/