How Success Happened for Aaron Levant, CEO of NTWRK
This CEO built a video ecommerce empire for Gen Z.
Opinions expressed by Entrepreneur contributors are their own.
Aaron Levant, CEO of the No. 1 livestream shopping app NTWRK, was born with a natural entrepreneurial drive. As a dyslexic high school drop-out and bold innovator, the Los Angeles-born Levant knew early on that he would forge his own path and write his own rules for achieving success. His early endeavors included publishing and selling a car zine to his fourth-grade classmates and creating his first trade show in his teens — the first in a line of 30 brand events he would help launch.
Aaron Levant
Related: Create a Podcast For Your Brand or Company
Levant's success at NTWRK has materialized into more than two million users and over $10 million in funding since 2018. He was drawn to the company's unique mission: NTWRK offers an unprecedented overlap of content creation, virtual shopping festivals, episodic programming and exclusive product launches, giving brands and artists (like Billie Eilish, Takashi Murakami and Adidas) the chance to tell stories behind their most compelling products.
Related: The Best Football-Themed Sports Podcasts
A self-described graffiti kid, Levant's early passions for streetwear, sneakers and graffiti still resonate. Levant started his first company, streetwear trade show Agenda Show, in 2003 as a trade show with an emphasis on style, art and music. He later created and managed fashion festival events and used his savvy to co-found the NTWRK agency for retail brands from 2011-16.
Levant's role at NTWRK allows him the chance to apply his knowledge of brands, marketing and relationships to the digital space, delving into three new areas for him: content, ecommerce and technology. In addition to his role as CEO at NTWRK, Levant has also co-founded new companies including the luxury brand Truff Hot Sauce and Hall of Flowers, a highly-curated B2B trade show for cannabis products.
Through his many successes, Levant cites the lessons learned along the way, including one he was forced to learn as a child with dyslexia: overcoming obstacles. As an entrepreneur, he discovered how to create scarcity around a commodity to drive consumer interest and realized that successful entrepreneurs shouldn't be afraid to ask for help.
"Over the course of my 20-plus-year career, I have collected an amazing group of mentors who I lean on for their wisdom, insights and experience," he said. "It's made me better at business and in my personal life."
Considering his move from the live event sphere to ecommerce, Levant also believes that moving through discomfort is a necessary step on the way to entrepreneurial success. For him, putting aside one's ego and getting past failure, frustration and embarrassment is a vital skill. It may come as no surprise that Levant has turned his childhood "oppositional defiance" into a mantra for adult achievement: Move forward at all times rather than wait for the approval of gatekeepers.
Related: Book a Celebrity Entrepreneur For Your Next Event
Source: http://feedproxy.google.com/~r/entrepreneur/latest/~3/yWh753EB0rc/380269
Snap-on Falls On Lackluster Guidance
If there is one thing the market needs from Snap-on (NYSE: SNA) and other globally oriented companies is a little reassurance in the supply chain. While Snap-on did not give…
If there is one thing the market needs from Snap-on (NYSE: SNA) and other globally oriented companies is a little reassurance in the supply chain. While Snap-on did not give any specific guidance the lack of details is less than reassuring in a world where supply disruptions, inflation, and labor shortages are impacting both the top and bottom lines. The takeaway, however, isn't the fact Snap-on failed to give reassuring guidance but that both revenue and earnings are growing and beat the consensus estimates. If Snap-on can continue to navigate the COVID environment as it has been the stock price should perk back up. Until then, the stock pays a safely growing dividend with an attractive yield and an even more attractive outlook for distribution growth.
Depositphotos.com contributor/Depositphotos.com – MarketBeat
FX Tailwinds Boost Snap-on Results
Snap-on had a good quarter but it was the FX tailwinds that made it great. The company reported $1.04 billion in net consolidated revenue which is up 10.5% from last year, 15% from two years ago, and beat the Marketbeat.com consensus estimate by nearly 300 basis points. The strength was driven by gains in all segments that were amplified by currency conversion from the offshore business. Currency conversion added roughly 1000 basis points to growth on top of the 10.6% increase in Commercial&Industrial sales, 9.9% increase in Repair Systems, and 3.7% increase in Snap-on Tools revenue. The Financial Services segment also did well with growth of 6.5%.
Moving down the report the company did experience some margin contraction but less than what was expected. The company reported 19.4% in adjusted operating margin compared to 19.7% last year and fixed GAAP earnings at a rate above the consensus. The GAAP earnings of $3.57 are up 8.8% versus last year, 20.6% versus 2019, and beat the consensus estimate by $0.17.
Looking forward, the company remains positive on the long-term trajectory for growth but sees uncertainty in the quarter ahead. For that reason, execs declined to give any formal guidance and instead said this…
"COVID-19, its subsequent variants, as well as related supply chain inefficiencies, continue to impact economic activity worldwide in 2021. Snap-on is accommodating to the virus-related turbulence and is pursuing opportunities in this mixed environment. The company believes that our markets and our operations have demonstrated and possess considerable resilience against the impact of the virus and that there will be ongoing advancement in the midst of the pandemic. The trajectory of progress, however, may be uncertain due to the evolving nature and duration of the current situation and in 2021…"
Snap-on's Dividend Is Not Tooling Around
Snap-on pays a very safe 2.16% dividend yield and one that comes with a very attractive outlook for growth. The company is paying out less than 35% of its earnings and has ample free cash flow on the books. The company is only very lightly levered and has a fortress balance sheet as well. Based on the 11-year history of increases and the 15% distribution CAGR we are expecting the next increase to be equally large. If history serves as a guide, the next increase should come with the next dividend declaration.
The Technical Outlook: Snap-on Falls To Support
Shares of Snap-on fell more than 5.0% in the wake of the earnings report but found support at the $215 level. This level has supported price action several times and appears to be a strong level. The indicators are consistent with a peak in price action but not a reversal so there are no red flags yet. A move below $215 would be bearish but may only get as far as $210. A move below $210 would be more bearish.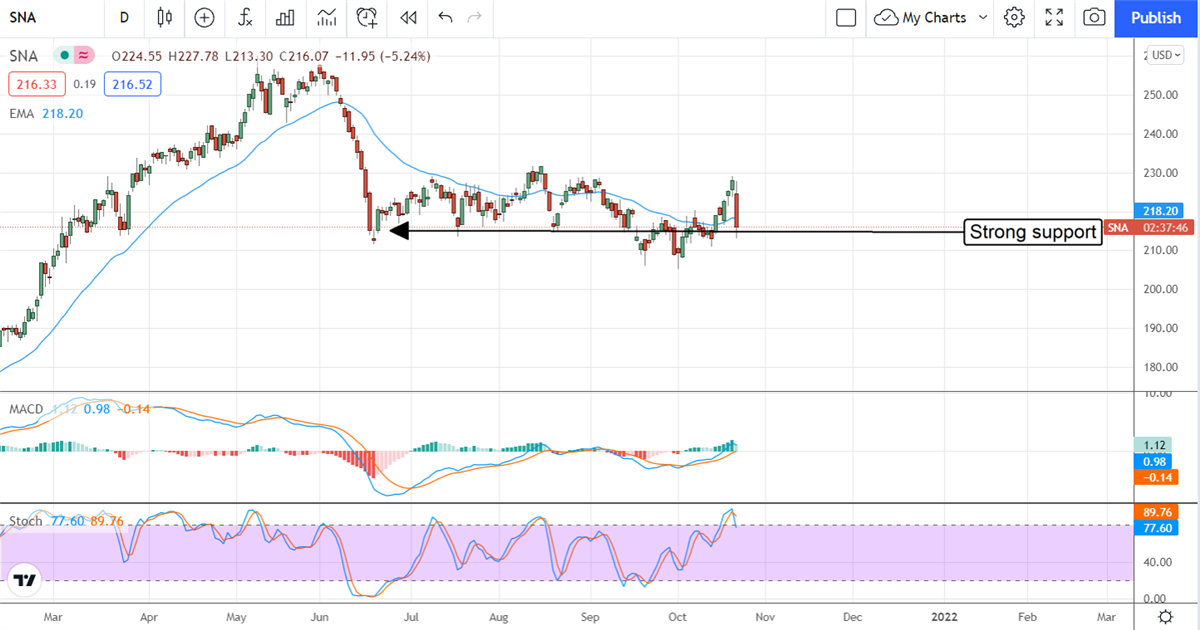 Source: http://feedproxy.google.com/~r/entrepreneur/latest/~3/hBGFJpNyNPw/392792
Facing Roadblocks to Get Out of Debt? 4 Tips that Actually Work
Facing debt? Worse yet, facing roadblocks as you attempt to get out of debt? Here's how to handle it.
Getting out of debt is like trying to climb out of a deep, muddy pit. As soon as you seem to grab a toehold, you slide down again.
Depositphotos.com contributor/Depositphotos.com – MarketBeat
American household debt among 340 million Americans hit a record $14.6 trillion in the spring of 2021.
Let's go over a few roadblocks people often face to get out of debt and tips to get out of debt (that actually work!) so you can fix your situation once and for all.
Roadblock 1: Extra expenses keep cropping up.
Right now, I'm typing away at this article in our veterinary office. Our dog might have hip dysplasia, so you bet that means spending extra on veterinary care. Such a bummer! (For the pup and for us. Luckily, we think he'll be just fine.)
The point is, extra expenses come up all the time. Whether you find yourself in a situation where you need to put an expensive part on your car or need $700 worth of X-rays for your dog, you often can't seem to surmount your debt because those extras keep resurfacing.
Roadblock 2: You lack mental commitment.
Your mental commitment sometimes means everything. When you're more mentally committed to a task, it's more likely that you'll achieve it.
Most people set goals and feel highly motivated for a few days, but after a few weeks, they face an obstacle or bad habits creep back in. It's easy to then quickly lose motivation and procrastinate on your goals. If you're never really committed in the first place, how well do you think you'll be able to meet your "get out of debt" goals? Probably not very well.
If you want to dig your way out of serious debt, it often requires intense commitment.
Roadblock 3: You can't free yourself from lifestyle creep.
Have you ever wondered why people spend so much time trying to keep up with their neighbors? Remember this: They're probably broke. Fancy toys, cars and houses cost a lot of money. Freeing yourself from this lifestyle can keep you from ending up in the same boat.
Roadblock 4: You don't have a plan.
You need a plan to attack your debt. If you don't have one, it's easy to stay in a debt cycle. Many experts tout tricks you can implement, but the most important thing you should do involves sitting down with all your statements and figuring out how much you owe.
Your list might look something like this:
Student loans: $30,000 at 5.8%
Mortgage: $200,000 at 2.50%
Personal loan: $4,000 at 11%
Auto loan: $30,000 at 9%
Credit cards: $6,000 at 18%
Only then can you actually make a plan for eradicating your debt. (We'll go over a few ways you can tackle debt in the next section.)
Get Rid of Debt: Tips that Actually Work
Let's take a look at a few tips that you can use to get rid of debt. No one way is the "right" way to go about it — you have to make the right decision for you.
Tip 1: Choose a payoff method.
Let's take a quick look at these debt totals again:
Student loans: $30,000 at 5.8%
Mortgage: $200,000 at 2.50%
Personal loan: $4,000 at 11%
Auto loan: $30,000 at 9%
Credit cards: $6,000 at 18%
You may consider using the debt snowball or debt avalanche method. The debt snowball method involves paying off the lowest amount of money first. In the example above, you'd make the minimum payments on all loans but pay extra on the $4,000 personal loan because it's the lowest amount. Doing so gives you a quick win.
You may choose to use the debt avalanche method instead. This type encourages paying off the loan with the highest interest rate first. In the case above, the highest interest rate is the credit card debt with an 18% interest rate. You'd tackle that type of debt first.
Whatever route you choose, it's important to have a plan.
Tip 2: Set a goal for the extra payoff amount.
How much extra can you put toward the debt you chose to tackle first? An extra $200? $500? $50?
You can use a payoff calculator to see how much faster you'll pay your debt off (and the amount you'll save on interest) when you kick a specific amount of money toward it.
If you can't put a lot of money toward your debt right now, that's okay. You may want to commit to more later on by slowly increasing the increments you pay.
Making extra payments also has other benefits. You'll also improve your debt utilization ratio, which tells you how much debt you use. You'll also improve your credit score. Setting a goal might also make you realize that you need a budget to figure out how much extra money you can contribute.
Tip 3: Get a side hustle.
Ah, the side hustle option. When you can keep the amount you earn from your regular job and only send the side hustle money toward paying off extra debt, it's almost a way to compartmentalize your earnings.
What can you take on as a side hustle? Can you design websites? Write articles? Consult? Rent out a room in your home? There's a guy at the end of our road that rents out three or four different campers.
The point is, the sky's the limit. Whatever you can do well, make money off of it and throw it toward your debt.
Tip 4: Stop spending money.
Impossible. Right?
Stop spending money on impulse purchases, things you don't need and things you'll just throw away after six months. I bet you can find 100 things in your home that you've never used and that you don't need. (I think I can spot 10 things just from what I can see sitting on my living room couch.)
Reducing your spending can free up money that you can put toward your debt. Once you make the commitment to do that, you won't worry about where the extra money will come from for debt payoff.
Just make sure you actually do put the extra money toward your debt!
Dance Around the Roadblocks and Get Out of Debt
Why do you want to get out of debt? Think about what you want to accomplish, and how having no debt will help you get there. Having a clear reason to leave debt in the dust can help you figure out how to stay motivated to dig yourself out of that deep, muddy hole.
Right now, I'm typing away at this article in our veterinary office. Our dog might have hip dysplasia, so you bet that means spending extra on veterinary care. Such a bummer! (For the pup and for us. Luckily, we think he'll be just fine.)
Source: http://feedproxy.google.com/~r/entrepreneur/latest/~3/wDkVFWVTOWI/387799
American Airlines Pilots are Going on Strike
The airports with planned demonstrations will include the Dallas/Fort Worth International Airport and Miami International Airport.
Opinions expressed by Entrepreneur contributors are their own.
American Airlines (AAL) has made no shortage of headlines this summer — perhaps only a shortage of staffers.
Joe Raedle | Getty Images
After a tumultuous season, the labor union representing the airline's pilots has announced that it will begin "informational picketing" in three of the airline's major hubs on account of fatigue, lack of "adequate accommodation" and an unjust work schedule.
The airports with planned demonstrations include Dallas/Fort Worth International Airport (where American Airlines is headquartered) and Miami International Airport.
Related: American Airlines Desperately Asks Employees to Volunteer
"Our airline needs scheduling practices that support the safety margin, respect pilots' and passengers' needs, and de-risk American Airlines to protect and improve revenue," the Allied Pilots Association said in a statement.
The scheduled demonstrations don't exactly come as a surprise.
Back in June, the airline began canceling hundreds of scheduled flights due to lack of staff and other weather- and maintenance-related issues, continuing to cancel between 50 and 80 flights per day through the middle of July.
"The first few weeks of June have brought unprecedented weather to our largest hubs, heavily impacting our operation and causing delays, canceled flights and disruptions to crew member schedules and our customers' plans," American Airlines said in a statement at the time.
Related: American Airlines Will Cancel Hundreds of Flights Due to Staffing Shortages
"That, combined with the labor shortages some of our vendors are contending with and the incredibly quick ramp up of customer demand, has led us to build in additional resilience and certainty to our operation by adjusting a fraction of our scheduled flying through mid-July."
Prior to that, it was reported that the company was asking its Dallas/Fort Worth employees to pick up extra shifts during the summer months without offering any additional compensation such as overtime pay or bonuses.
American Airlines lost nearly 30% of its workforce (40,000 workers) due to pandemic-related cuts and voluntary leave last October.
The airline, however, was up around 5.52% year over year as of Wednesday morning.
Source: http://feedproxy.google.com/~r/entrepreneur/latest/~3/5QDIPBXN7fk/384334